Pentacle In Out Board 10.03.0.2812 Details
---
Publisher Description

Pentacle is an in-out board for businesses and organizations that would like to know who's in and who's out of the office. It included exclusive Sick leave tracking system and Vacation Tracking system. You can see who is in, out, busy, sick, vacation, lunch or dayoff. Administrator can change the skin of IN-OUT board and Post some news to your staff. Pentacle let you have full view of you office, and know when they will have vacation or doctor appointment. You can see how many staff will take vacation in specified month. So it is easy to manage it. It further has user attendance report with different output format. Multi-location and Multi-group are good features in which you can manage the specified office and/or department situation. You have up to 50 user capacity and up to 5 groups and 5 locations. It is difficult to image how many rich features Pentacle has. The best way is first to look at the on-line demo at http://pentacle.g2soft.net/ . If you want to know much about it, please download the full version and install it in you server and try it. You will find it is worth.
Download and use it now: Pentacle In Out Board
Related Programs
Our auction tote board software transforms your PC into a virtual auctioneer tote board using the computer and display you already have. Our auction tote board download is a great way for bidders to easily track auction progress during live...
---
Screenshot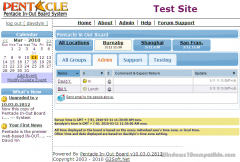 ---
---
Details
Follow us:
Size:

526 KB

License

Freeware

Cost

$0

Operating Systems

Windows 10

Release date

20 Jul 2015

Publisher G2Soft.Net
---
Top Downloads (last week)
Keywords